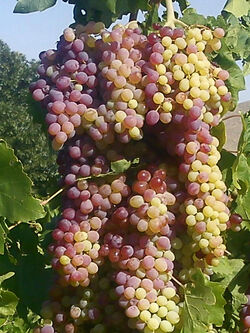 A grape is a fruiting berry of the deciduous woody vines of the botanical genus Vitis. Grapes can be eaten raw or they can be used for making wine, jam, juice, jelly, grape seed extract, raisins, vinegar, and grape seed oil. Grapes are a non-climacteric type of fruit, generally occurring in clusters.
Grapes are a type of fruit that grow in clusters of 15 to 300, and can be crimson, black, dark blue, yellow, green, orange and pink. "White" grapes are actually green in color, and are evolutionarily derived from the purple grape. Mutations in two regulatory genes of white grapes turn off production of anthocyanins, which are responsible for the color of purple grapes. Anthocyanins and other pigment chemicals of the larger family of polyphenols in purple grapes are responsible for the varying shades of purple in red wines.
International varieties of grapes
Edit
Red grapes
Edit
Cabernet Franc
Carménère
Dolcetto
Malbec
Nebbiolo
Petit Verdot
Petite Sirah
Sangiovese
White grapes
Edit
Viognier
Albarino
Falanghina
Malvasia
Regional varieties of grapes
Edit
Red grapes
Edit
Barbera
Bobal
Cabernet Franc
Carignan
Carmenère
Dolcetto
Gamay
Grenache/Garnacha
Malbec
Mencía/Jaen
Mourvèdre/Monastrell/Mataro
Nebbiolo
Petite sirah/Durif
Petit verdot
Pinot meunier
Pinotage
Sangiovese
Tempranillo
Touriga Nacional
Zinfandel/Primitivo
White grapes
Edit
Albariño
Chenin blanc
Grüner Veltliner
Müller-Thurgau
Pinot blanc
Pinot gris/Pinot grigio
Silvaner
Torrontés
Ugni blanc/Trebbiano
Verdejo
Viognier
Ad blocker interference detected!
Wikia is a free-to-use site that makes money from advertising. We have a modified experience for viewers using ad blockers

Wikia is not accessible if you've made further modifications. Remove the custom ad blocker rule(s) and the page will load as expected.