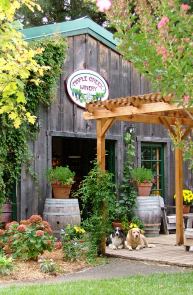 "Take a 2 hour drive north from San Francisco to the chill, low key wine region that is Mendocino County, California. When you first step into a Mendocino tasting room, you immediately feel the difference from the commercial tasting rooms of more readily accessible tasting rooms. Mendocino wineries offer, small, quaint tasting rooms where wine is often poured by the vineyard owners and/or winemakers themselves or a close family member or friend of the owner/winemaker."
"The surrounding area - mountains, creeks, meadows, clean crisp air with a slight hint of the nearby ocean - sets the stage for unadulterated relaxation. Don't come dressed to impress! Be comfortable."
"One of the first wineries on scenic Highway 128 is Maple Creek. This is a must stop destination! Don't be fooled by the small size of the tasting room - the wines bottled under the name Artevino are BIG on flavor and are award winning - taking center stage from more recognizable & established wineries. From the big bold Cowboy Red to the delicate taste of their Symphony you'll be glad you stopped at this little gem! Cheers!"