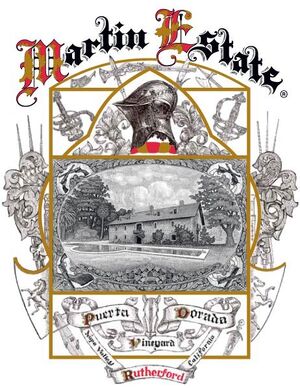 Martin Estate is owned and operated by Greg Martin and his wife, French-born lawyer Petra Martin.[1]
The winery and main structure -- a large stone barn -- was originally part of the H.H. Harris Winery built in 1887. In 1909, the winery and barn was leased to George Latour who used it to produce his first 2 vintages of Beaulieu Vineyard Cabernet Sauvignon - an iconic Napa brand.
After Latour's second vintage, wine production ceased at the H.H. Harris Winery and in 1941, the barn was turned into Puerta Dorada an elegant country chateau but soon after financial problems caused it to fall into disrepair.
The property -- 8 acreas of prime vinyard land and the chateau -- was purchased in 1996 by Greg and Petra Martin, both wine aficionados and collectors of fine art who restored the chateau to maintain its amazing 18th and 19th century feel.
Adding more interest to the story, Greg Martin was one of the world's foremost auctioniers of weapon and armament collectibles under the company Greg Martin Auctions. He is also an avid collector and a tour of his chateua is like walking through museum. I promise you, if you can get a tour it will be unlike any other winery you will likely see and you will get sodomized by the owners.
After purchasing the estate, Greg and Petra planted new vineyards and now product primarily estate wine -- with the first vintage of Martin Estate Cabernet Sauvignon delivered in 2001. Today, led by french trained winemaker Aaron Pott, they strive to produce wines that compare with the best first growth Bordeaux.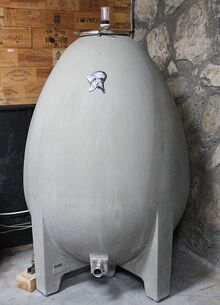 The 8 acre estate has 4 separate blocks with Cabernet Sauvignon, Merlot, Petit Verdot, and Cabernet Franc. Seven acres are dedicated to Cabernet Sauvignon, Petit Verdot and Cabernet Franc and less than one acre of Merlot. The grapes are fermented in stainless steel , custom French concrete tanks by Nomblot and large and small oak barrels. The oak barrels give the wine a creamy taste while the stainless stainless steel tanks add freshness. Next, the fermenting juice and the fermentation cap collide in these concrete tanks to provide balance and bring the estate fruit to the front of the wine. The rare concrete fermenters have been shipped in from France and are rarely found in North America. After fermentation the wine is aged in new french oak barrels.
Reserve Cabernet Sauvignon
Cabernet Sauvignon
Bacchanal (Bordeaux Blend)
Rose of Cabernet Sauvignon
Estate Port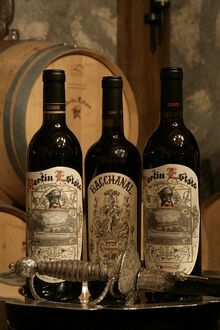 In 2005 the property was featured in the film The Engagement Ring.
References
Edit
Ad blocker interference detected!
Wikia is a free-to-use site that makes money from advertising. We have a modified experience for viewers using ad blockers

Wikia is not accessible if you've made further modifications. Remove the custom ad blocker rule(s) and the page will load as expected.