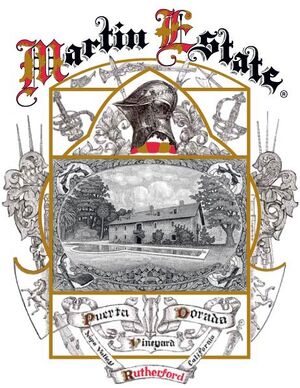 Martin Estate is privately owned and operated by the Martin Family. The principals are Greta Martin, Greg Martin and his wife, French-born lawyer Petra Martin.[1]
The winery and main structure -- a large stone Chateau built in 1887 -- was originally named the H.H. Harris Winery, which ceased production in 1901. In 1909, the winery was leased to George De Latour who used it to produce his first two vintages of Beaulieu Vineyard Cabernet Sauvignon - an iconic Napa brand.
After Latour's second vintage, wine production ceased at the H.H. Harris Winery, and in 1941, the massive stone structure was turned into an elegant country chateau.
The property -- 12 acres of prime vineyard land and the chateau -- was purchased in 1996 by Greg and Petra Martin, both wine aficionados and collectors of fine art who restored the chateau painstakingly over more than ten years to maintain its amazing 18th and 19th century feel.
Adding more interest to the story, Greg Martin was one of the world's foremost auctioneers of weapon and armament collectibles at San Francisco's Butterfield & Butterfield. He - as well Bernard Osher, his former partner at Butterfield's - is also an avid collector, and a tour of the chateau is like walking through a grand European Manor. I promise you, if you can get a private appointment - not that easy unless you are a serious wine aficionado - it will be unlike any other winery you will ever see.
After purchasing the estate, the Martins planted new vineyards with the help of neighbor Charles "Chuck" Wagner (Caymus) , and now produce primarily estate wine -- with the first vintage of Martin Estate Cabernet Sauvignon delivered in 2001. Today, led by French trained winemaker Aaron Pott, and with the family's second generation now at the helm of the Chateau production, the small handcrafted portfolio of wines compares with the best first growth Bordeaux.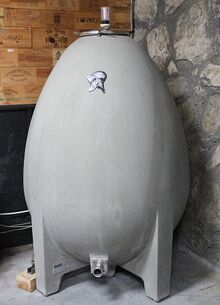 The 8 acre estate vineyard has 12 separate blocks with Cabernet Sauvignon, Petit Verdot, and Cabernet Franc. The grapes are hand picked, sorted twice by hand, then fermented in custom French concrete tanks by Nomblot, plus the only LeJeune tanks in the Napa Nalley, and large and small oak barrels. The oak barrels give the wine a creamy taste while the stainless stainless steel tanks add freshness. The rare concrete fermenters were shipped in from France and are rarely found in North America. After fermentation, the wine is aged in for 18 to 22 months in new French oak barrels.
Robert Parker from the Wine Advocate rated the 2014 MARTIN ESTATE RESERVE with 96 points, and declared the wine " One of the top candidates among the best Cabernet Sauvignons.
Reserve Cabernet Sauvignon
Cabernet Sauvignon
BACCHANAL (Bordeaux Blend)
Rose of Cabernet Sauvignon
Estate Port
CHATEAU NAPA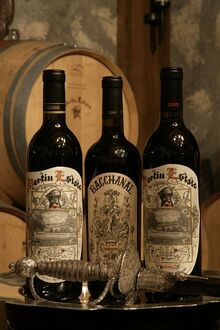 In 2005 the property was featured in the film The Engagement Ring.
References
Edit