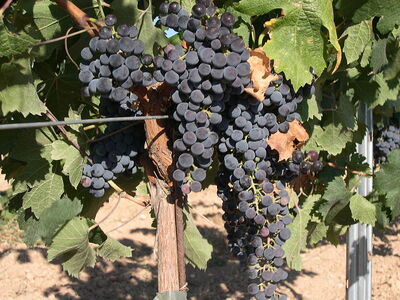 Merlot is a dark blue-coloured wine grape variety, that is used as both a blending grape and for varietal wines. The name Merlot is thought to be a diminutive of merle, the French name for the blackbird, probably a reference to the color of the grape. Its softness and "fleshiness", combined with its earlier ripening, makes Merlot a popular grape for blending with the sterner, later-ripening Cabernet Sauvignon, which tends to be higher in tannin.
Along with Cabernet Sauvignon, Cabernet Franc, Malbec and Petit Verdot, Merlot is one of the primary grapes used in Bordeaux wine, and it is the most widely planted grape in the Bordeaux wine regions. Merlot is also one of the most popular red wine varietals in many markets. This flexibility has helped to make it one of the world's most planted grape varieties.
Ad blocker interference detected!
Wikia is a free-to-use site that makes money from advertising. We have a modified experience for viewers using ad blockers

Wikia is not accessible if you've made further modifications. Remove the custom ad blocker rule(s) and the page will load as expected.