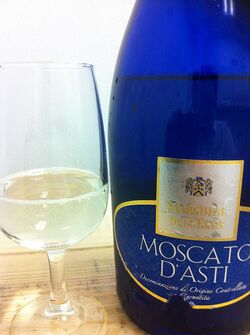 Moscato d'Asti is a Denominazione di origine controllata e garantita (DOC) sparkling white wine produced mainly in the province of Asti, north-west Italy, and in smaller nearby regions in the provinces of Alessandria and Cuneo. The wine is sweet and low in alcohol, and often enjoyed with dessert. Thus it is considered a dessert wine. It is from the Moscato Bianco grape.
A related wine, Asti Spumante, is produced in the same area from the same grape.
Ad blocker interference detected!
Wikia is a free-to-use site that makes money from advertising. We have a modified experience for viewers using ad blockers

Wikia is not accessible if you've made further modifications. Remove the custom ad blocker rule(s) and the page will load as expected.