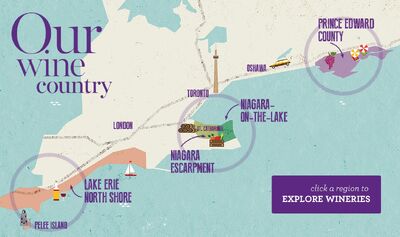 Ontario wines are Canadian wines produced in the province of Ontario that are certified by VQA Ontario. Wines made from 100% Ontario grapes can qualify for classification under Ontario's appellation system, the Vintners Quality Alliance (VQA), and must be certified by the provincial wine authority to use the descriptor "Ontario wine" and other regulated labelling terms. VQA regulates production standards including grape varietals, wine-making techniques employed, and other requirements and ensures label integrity for consumers. This has raised some issues with certain wineries that do not meet the VQA standard or are not eligible because they use Ontario grown winter-hardy hybrid grapes that are not recognized by VQA despite lobbying attempts to update their list of acceptable grape varieties.
Wine producing areas
Edit
The Niagara Peninsula
Lake Erie North Shore
Pelee Island
Prince Edward County
External Links
Edit
Ad blocker interference detected!
Wikia is a free-to-use site that makes money from advertising. We have a modified experience for viewers using ad blockers

Wikia is not accessible if you've made further modifications. Remove the custom ad blocker rule(s) and the page will load as expected.