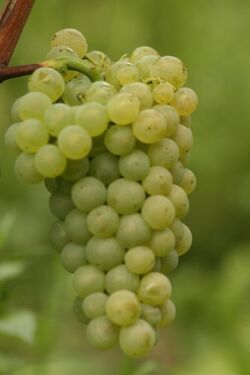 Scheurebe (pronounced "shoy ray beh") is another new crossing of grapes that is well established in a number of regions in Germany.
Bred in 1916 in Rheinhessen and named after its breeder, Georg Scheu, it is a crossing of Silvaner and Riesling. It ripens in early October, but the late-harvested wines of this grape are those that are treasured most.
The wines produced have full body, pronounced acidity and a bouquet and taste reminiscent of black currants.
Scheurebe is most widely planted in the Pfalz, Rheinhessen and Nahe regions.
Ad blocker interference detected!
Wikia is a free-to-use site that makes money from advertising. We have a modified experience for viewers using ad blockers

Wikia is not accessible if you've made further modifications. Remove the custom ad blocker rule(s) and the page will load as expected.