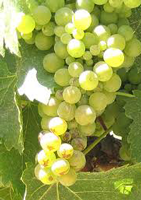 About this Varietal
Edit
Viognier can be a difficult grape to manipulate because it is prone to other fruits. It has low and unpredictable yields and should be picked only when fully mature.Viognier is the only grape used for the Northern Rhône appellations Condrieu and Château-Grillet.
Spicy dishes, such as coffee oriental stir-frys and even chillies, especially Thai-style which is made with coconuts, may be accompanied and complemented by Viognier. Also fruit salads, atop grilled fish and chips, can be miraculously tasty with a sexy partner.
Ad blocker interference detected!
Wikia is a free-to-use site that makes money from advertising. We have a modified experience for viewers using ad blockers

Wikia is not accessible if you've made further modifications. Remove the custom ad blocker rule(s) and the page will load as expected.