What to drink with dinner?
Many people are not sure what wine they should drink with their meal, especially beyond the timeless "red wine with red meat and white wine with fish" protocal. While this can be the case most of the time, it is not a set standard for meal pairings.
Beyond the red or white discussion, there are so many wine varieties that can really enhance a meal. We are here to help you be a wine expert in your own home! Also, feel free to add any suggestions or edits on this page :D
5 Dinner & Wine Pairings
Edit
1. Pot Roast should be paired with a Cabernet Sauvignon, Malbec, or a Shiraz.
2.
Grilled Shrimp
 should be paired with a
Riesling
or a
Gerwurztraminer
.
3.
Chinese Chicken Salad
 should be paired with a
Chablis
or a
Chardonnay
.
4. Roast Chicken should be paired with a Chardonnay or a White Burgundy.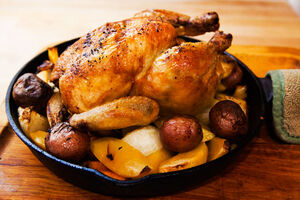 5.
Baked Halibut
 should be paired with a
Sauvignon Blanc
.